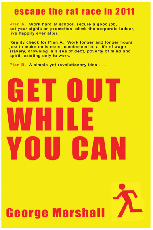 Get Out While You Can – Escape the rat race in 2011 by George Marshall encourages you to work less, work when you choose and earn more money, doing what you want – all whilst working from home. Wherever that home may be.
So how is that possible? Well as Get Out While You Can explains, the Information Age affords each and every one of us some amazing business opportunities. Opportunities that are low cost – you can start an Internet business for less than £50 (and Marshall explains how to do so) – and thus relatively risk free. Yet these opportunities have the potential to earn significant income. And even if individually they don't amount to a significant income, several, tens or even hundreds of these businesses combined can add up to more that you'd earn working for someone else.
Get Out While You Can begins by explaining what's wrong with our current, go-to-school, get good grades, get a good job, work hard, retire on a good pension and then start enjoying life mentality (aka Plan A). Instead it offers an insight into the alternate approaches to earning a living, using the Beckhams as an example. For those of us who are believers and are already following what Marshall calls Plan B it's a rather lengthy introduction. For those that aren't it should be eye-opening and inspiring.
Once the rhetoric is out of the way Plan B is introduced. This is where Get Out While You Can shines, it introduces a number of Internet business opportunities including affiliate marketing, domaining, and blogging. Each business opportunity is well explained along with a real example of what is achievable and comprehensive explanations of how to start the business.  There's something for everyone here, even those of us that have run several Internet businesses – I certainly learned a lot about domaining.
If you're serious about escaping the rat race, or you just want to make some extra money on the side then I'd highly recommend you buy Get Out While You Can.
You can buy it from Amazon UK or Amazon USA.
Email This Post