Ah the suns out, it feels like summer – perfect for taking lunch on the deck – a great place to mull over business ideas. It's a great deck too, I built it myself last summer. What amazed me at the time was the lack of good clear instructions on how to design and build a deck available both on the Internet and in book form.
Even more so I was suprised at the lack of a good decking kit. Plenty of DIY stores offered squares or rectangles but few offered anything more interesting. So instead I built this: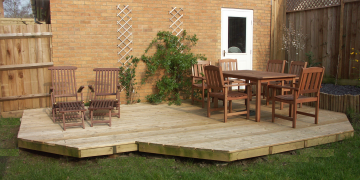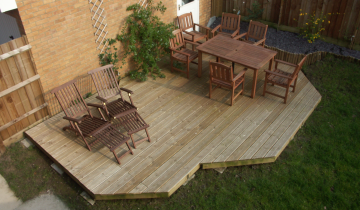 Which took about two days working on my own. It would have been much quicker if I'd be able to buy a decking kit with all the pieces ready cut to size and a set of instructions. Fortunately I had an excellent scale plan that my Dad created. However if I'm chuffed with the more interesting design he did I'm sure there must be others that would like designs, building instructions and full decking kits for decks that are more than just squares and rectangles.
Email This Post