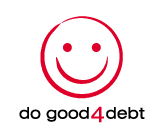 Britain's personal debt is increasing by a very scary £1 million every 4 minutes. By the end of August 2007 it totalled £1,363 Billion! Amongst those in debt are university graduates, who leave their studies with an average debt of £12,363. However a scheme called Do Good 4 Debt, is launching in January 08 which aims to assist graduates and people in debt to get back into the black by doing some charity work with the homeless, sick or elderly.
It is the brainchild of Ian Wallace, 26, a graduate of Oxford university who, in 2005, found himself with £14k worth of debt, Do Good 4 Debt is working with UK companies to sponsor financially-challenged individuals. The idea is that the sponsorship will pay off a person's debt in part or full provided that they work for a charity for an agreed length of time, under its own 'banner'.
Ian came up with the idea during a gap year job in a factory, in which his entire monthly wage was going on debt repayments. One day, Ian overheard the factory owner saying he didn't donate any profits to charity because he'd never seen the money do any good. Ian realised altruistic companies could help individuals and charities at the same time, by sponsoring graduates for eight months. The charity would gain a free employee while the graduate's debt would be settled by the sponsor.
After writing numerous letters to suitable sponsors and setting himself up as the guinea pig of the pilot scheme, Ian worked for three charities in Oxfordshire, and duly cleared his debts within eight months. Upon completing his time at the charities, Ian presented a report to his sponsors detailing exactly what difference their support had made.
Ian is currently on another sponsored placement in Rwanda, Africa, helping a local village tasks such as teaching, water and crop plantations. Upon returning to the UK in November, he hopes to sign up 500 candidates to the Do Good 4 Debt scheme.
Ian comments:
Do Good 4 Debt is an excellent opportunity for graduates as they can have a gap year of sorts, help worthy causes and clear their cumbersome debts at the same time. I believe this is the first scheme of its kind in the UK.
Ian has already signed up 12 charities in the UK and two projects based in Africa, while more than 100 potential candidates have joined Do Good 4 Debt. It costs just £16 to register as a candidate, with all profit going towards marketing the concept in the UK.
Seems like a a good idea to me, what do you think?
Email This Post