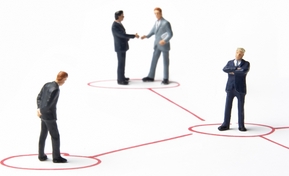 No matter how good your product or service is your business will need to develop good relationships to succeed. It's not just relationships with your customers that matter either, you should also build a good relationship with your suppliers, professional advisors, bankers, investors and competitors.
So what is the key to building good business relationships?
There are six key areas to work on:
Empathy – try to see things from the other persons point of view. Put yourself in their shoes.
Courtesy – manners cost nothing and go a long way.
Ask questions – people are interested in people who are interested in them. You'll also find out more about them, their business and how you can help them, even if it's only by introducing them to other people that can help them.
Be interesting – provide interesting conversation, don't just rely on yes and no.
Respect – respect other peoples views, their time and their expertise. Focus on building a relationship in which you help them, not one in which you pitch to them or continually ask for stuff.
Trust – make sure you are worthy of other people trust.
All of the above apply whether your relationship develops by email or in person at a networking event.
So start now, good relationships will pay dividends further down the line.
This is an entry in the lifehack.org "Spread the Love" Contest.
Email This Post